saturday, march 20, 2021
A Beginners Guide to NFT Art
Very excited to have introduced the concept of NFTs and crypto-art to a staff member from Design Centre Enmore recently! I couldn't believe they're not already talking about this as it opens up a whole new potential income stream for their digital art students and graduates. I thought to include here some of the information I provided them with, as it makes for a gentle but thorough introduction to the NFT space (note: the software that hosts this blog is fiddly, my apologies for not including hyperlinks!):

This is a great introductory video about NFTs:
https://www.youtube.com/watch?v=aS3jy2ZdN2s

And a recent article from the Sydney Morning Herald:
https://www.smh.com.au/culture/art-and-design/non-fungible-token-revolution-the-buyers-spending-millions-on-digital-art-20210313-p57aee.html

To really understand NFTs however, you need a basic understanding of cryptocurrency and the blockchain technology that supports it. This video explains the original digital currency Bitcoin:
https://youtu.be/Gc2en3nHxA4

NFTs, however, are traded in a different digital currency called Ethereum. This video explains a bit about Ethereum and touches on 'smart contracts' which is why Ethereum is used in the NFT marketplace instead of Bitcoin:
https://www.youtube.com/watch?v=0UBk1e5qnr4

Back to NFTs: This is a helpful video by Australian NFT/digital artist Mankind who's become a bit of an educator in the NFT space:
https://www.youtube.com/watch?v=a8ww4aNlPQU

Once you've wrapped your brain around what NFTs, cryptocurrency and the blockchain are (blockchain being the technology that enables cryptocurrency to exist and be traded), then this video is an inspiring watch as to what's possible in the world of NFT/digital art!
https://youtu.be/XqveU599ojg

And here is a lovely interview between Australian cryptocurrency trader/educator Adam Saunders/Nuggets News, and a young NFT artist called Fewocious.:
https://youtu.be/q-eVnopwxss

Fewocious will have work at the Follow The White Rabbit NFT-art event that's happening in Sydney over Easter:
https://futureart.io/

If you want to learn more about the cryptocurrency space and technology. Adam's 'Nuggets News' website has great educational resources:
https://collectiveshift.com.au/knowledge-centre/

And here is a list of websites where one can look at and buy NFTs. Some, like Superrare, are curated and artists need to apply to be featured on them. Other sites, like Rarible, are open to anyone to upload their work. Although doing this involves opening a cryptocurrency wallet and paying to 'mint' your work onto the Ethereum blockchain. I minted a piece. It cost me about AU$60 (+$50 when I made a mistake on my first try!). Fees are high currently. Not too long ago it cost much less. Fees will improve in time but it will take a while for the technology to be updated.

https://superrare.co
https://makersplace.com
https://niftygateway.com
https://opensea.io
https://rarible.com
https://knownorigin.io
https://foundation.app
https://www.bitski.com
https://zora.co
https://mintbase.io
https://mintable.app
https://niftykit.com
https://viv3.com

And lastly, some ethical concerns to consider, especially in relation to introducing the NFT concept in an institutionalised educational setting:

It takes a LOT of energy to power the computers that host the blockchain that cryptocurrency and NFTs exist on. So much so it is a valid environmental concern. There are people who see cryptocurrency, and now also NFT art, as environmentally irresponsible as a result. The counter argument to the above is that cryptocurrency is the future of money as traditional currencies are losing value due to being constantly printed, and will likely collapse at some point. And although the energy used in mining (creating) cryptocurrencies is high currently, many investors and companies in the space are concerned about this and are working towards more energy efficient and sustainable systems. I've heard it said that mining bitcoin/cryptocurrencies is one of the biggest drivers of research and development in the area of climate change. I've also heard it said that the current technology is like a steam train, in that we had to have the steam train as a stepping stone to evolving to cleaner forms of power, although one could argue we haven't gotten much cleaner!

A good example of how people in the space are aware of the environmental concerns of blockchain technology and are actively doing something about it is this exciting NFT collaborative auction, the aim of which is to off-set carbon emissions and increase climate change and sustainability awareness in the NFT space and beyond!
https://www.youtube.com/watch?v=rgLztGayDjY

A second valid concern to introducing the NFT concept in an instiutionalised educational setting is the fact that to be involved as an artist, one needs to hold cryptocurrency which is a very volatile market and there are many risks, especially if one doesn't take time to understand the landscape. One could even argue it's a form of gambling to be in this space.

I look forward to seeing how this all pans out!
[0 Comments] [Read & Post Comments]
---
saturday, february 20, 2021
Near Ego Death Experiences, Creativity Celibacy, A Cat A Day, NFTs.
What a crazy 5 years it's been since my last post here...
Crazy but incredible. And it hasn't stopped yet...
Numerous circumstances (most notably a bit too much kundalini yoga, a bit too much reading non-dual author Jed McKenna, and continued health and personal challenges) saw me pushed over and over through what felt like the very membrane of what it means to exist. I emerge sobered, yet flirting with being recklessly playful, because I can't quite feel life 'properly' anymore. However that also means that maybe I can finally enjoy it again. Because for a lot of the past 5 years enjoying anything was often rather difficult.
For much of last year I experimented with a creativity celibacy of sorts; for an indeterminant amount of time I decided to let go of my visual art and music practice, just to see who I am if I stop doing the things I've felt I've needed to do in order to be who I am, to be ok. It was fairly non-eventful, a bit dull, but interesting to observe. I still existed but things didn't flow as nicely as when I'm painting and playing, life just wasn't as well lubricated. It reaffirmed that creativity really is like a portal for me, tapping me into something etheric and powerful. If I abandon it, I don't die, but I do shrivel up a bit.
My art practice was reignited with the A Cat A Day project; the aim being 365 days of cat art (with occasional breaks). Each day I paint, sketch or sculpt, and then upload the image onto my personal Facebook profile. Each piece is for sale (unless it's a gift or I want to keep it) with the price aligning with the day of the project, for example Day 1's work cost $1, Day 2's work cost $2. Thus far almost all pieces are sold. The project is currently on pause at around day 80, as I shift my focus to work on a commission and to prepare for my entry into the world of NFT art...
NFTs... Non-fungible token artwork or 'crypto-art', if you like... The creative potential of this concept has me the most inspired I've been in a very long time. I plan to release a number of series of both traditional and digital art-work in the NFT space and I have one downright crazy idea which feels so right the world should be mildly trembling! Lol.
I'll leave you with some work from the A Cat A Day project.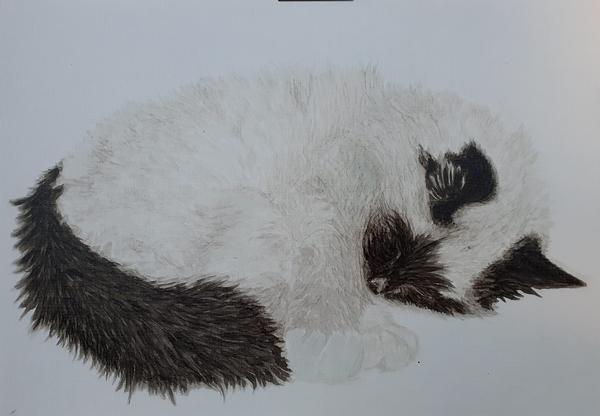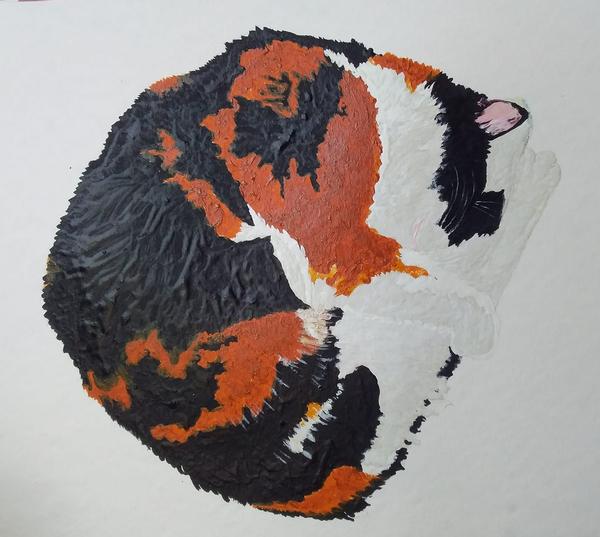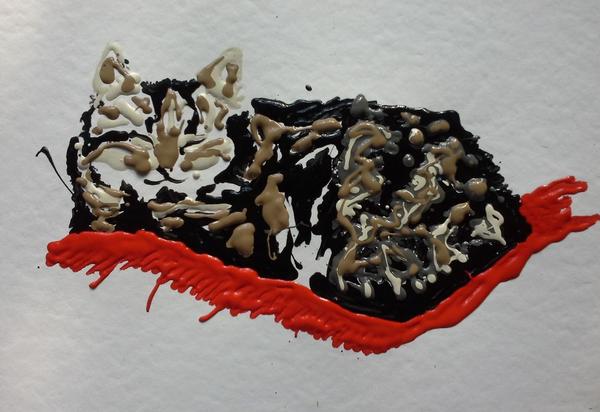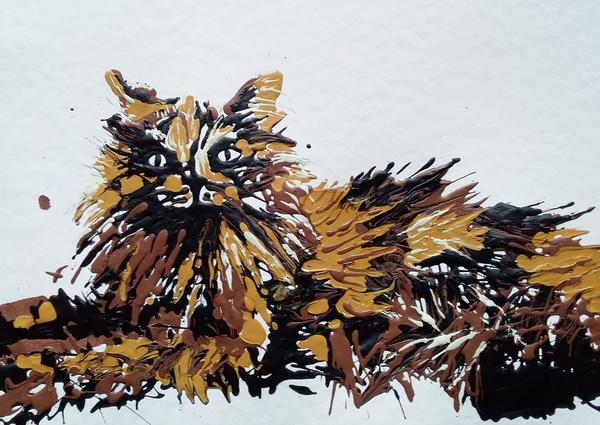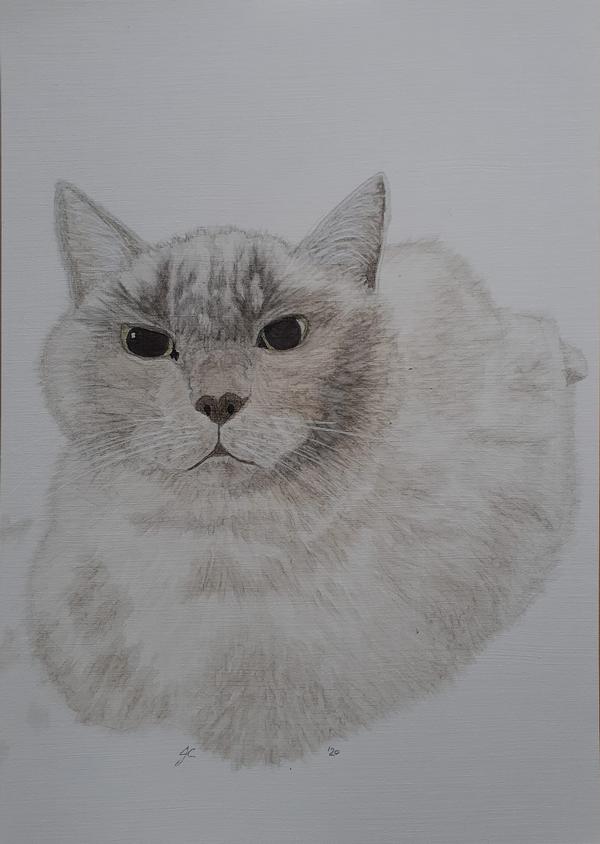 [0 Comments] [Read & Post Comments]
---
monday, november 23, 2015
Spirit of Sea Eagle, Cryptic, Cat Sculptures, and Cartooning
It's been a long time between posts! I've been struggling with adrenal fatigue and although I have still been painting/drawing/sculpting when I feel up to it I've been keeping off the computer more than normal this past year. Here's some of what I've been up to:
This (above) is Spirit Of Sea Eagle, an appropriate name for a kiteboard I thought. She's freshly cooked and looking for a home.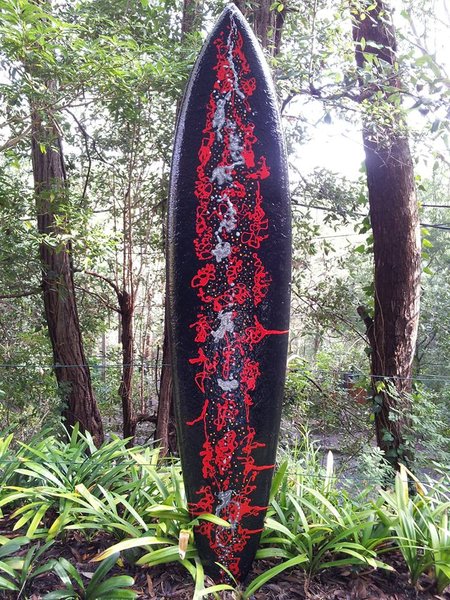 And this is Cryptic, who I actually wanted to work on a bit more but someone saw her and just had to have her as she was. She has nail polish on her! So does Spirit Of Sea Eagle. I have too much nail polish.
And these are wee clay sketches of my new kitten Tigerlily. She has since introduced more variation in her sleeping positions.
And cartooning. Yes, I've been explorig cartooning, and drawing on my tablet at gigs. Shall upload more images of those soon...
[0 Comments] [Read & Post Comments]
---
monday, september 29, 2014
Balancing Science and Art
I've been studying science subjects full-time this year, hence my being rather quiet on here. I have however managed to squeeze in some painting, drawing and selling my work around assignments and exams. The best place to keep up to date on all my creative shenanigans is on my Facebook page. Hope to see you there!
Oh and this happened today. I am most pleased :)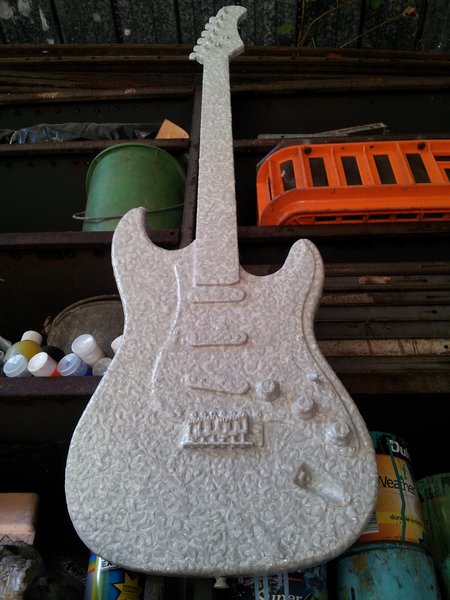 [0 Comments] [Read & Post Comments]
---
tuesday, june 25, 2013
'Counterpoint' Wins People's Choice Prize!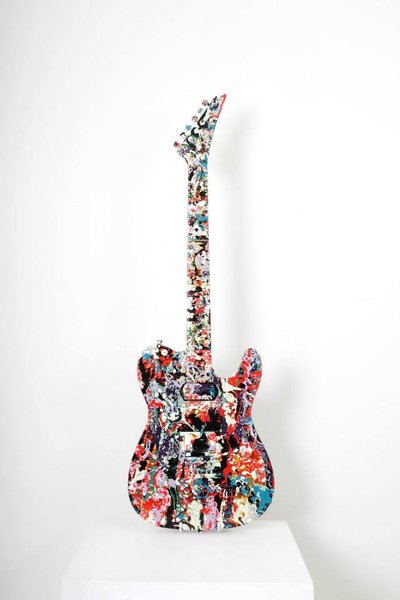 COUNTERPOINT WINS!
This is Counterpoint. I think she's beautiful. So do a lot of other people! Many thanks to all who voted for her in the Returned To Glory people's choice prize.
If you're interested in giving her a home she is ready to hang and currently for sale from me for $550.
MARKETS
I'm taking an indefinite break from Newport markets so if you'd like to talk to me or see my work contacting me online is the way to go.
WORKS IN PROGRESS
I currently have three works in progress; a portrait of my beloved cat, another guitar, and a kite-board come sea-eagle: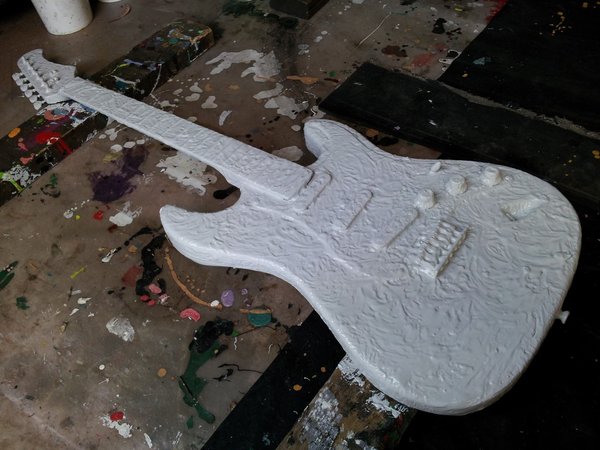 [0 Comments] [Read & Post Comments]
---
friday, january 11, 2013
Flowers, guitars, Facebook, and will not be at Newport Market in January
Firstly, please note: I will not be having my regular stall at Newport Artisan Market on the 19th Jan. I shall be away at a 5 day yoga workshop! Looking forward to returning to Newport on 16th Feb!
Secondly, Flowers 2 recently sold and is apparrently very happy in her new home. Here she is (first on the left) pictured with old friends: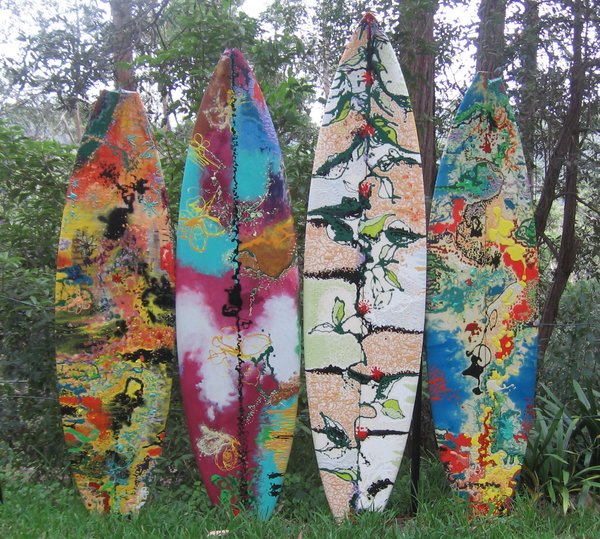 Thirdly, I'm still working on my first guitar. She's ready to hang, and I even took her to the last two markets, but I can't help but keep working on her. I think she's almost finished...here's a link to a sneak preview of her from my Facebook page.
And lastly, for more frequent updates on my works in progress, markets, exhibitions etc. do 'like' my Facebook page. I look forward to seeing you there!
[0 Comments] [Read & Post Comments]
---
monday, november 26, 2012
Newport Market Day 2012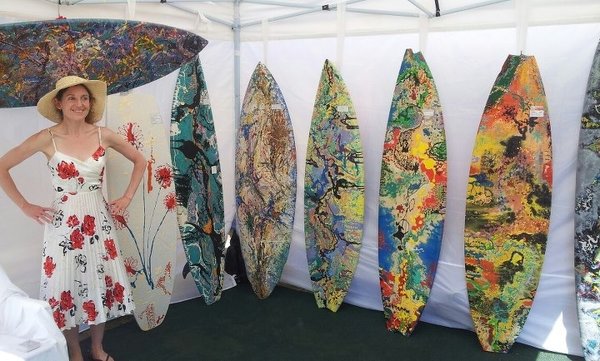 A great day was had at the annual Newport Market Day on the weekend!
Not only is this photo proof that I really am a cuttlefish, able to blend in seamlessly with my artwork, but this will be the last shot you'll see of me with my (and many other people's) favourites; Black Dancer (2nd on my left) and Hieroglyph (above me). Both sold on the day to lovely people who just had to have them.
Many thanks to Thomas Knox Arnold - Art & Sound for all his help and support on the day and for taking this lovely photo!
Also thanks to Tim and The3Events team for all their efforts to make the day a success.
[0 Comments] [Read & Post Comments]
---
saturday, november 24, 2012
NEWPORT MARKET DAY 2012!
We'll be there tomorrow! 9am-5pm. Usual spot in Bert Payne Park, Newport, close to Barrenjoey Road. Special Market Day prices and new work :D
[0 Comments] [Read & Post Comments]
---
wednesday, may 23, 2012
May Update
Had a lovely day at Newport Artisan Markets over the weekend! Had a great spot right up the front and visible to to traffic. I hope to keep it for all future markets. The beautiful Vine sold as a result of her owners to be driving past and spotting my stall from their car.
I also received a commission for a twin of Flowers (which will be great fun) and a request to exhibit in a showroom alongside some gorgeous recycled timber furniture - Furniture By Holger. To top it off I also received a donation of four new boards - many thanks Tim!
Also a huge thanks to Mum, my very trusty market-day assistant, and to Thomas for all that help with the end of the day lugging.
Here's a shot of us all set-up nice and early! Such a beautiful place for a market :)
[0 Comments] [Read & Post Comments]
---
wednesday, february 22, 2012
10. Markets, Commissions, Massive Blanks, and Goodbye Dragon.
So much news! To keep up with the news as it happens do go 'like' my Facebook page which I update regularly.
MARKETS:
Been loving my little market stall at Newport Artisan Market ! Come visit me in my little portable gallery on the 3rd Sat of each month in the park behind Newport Beach. Hmm, maybe I should start offering wine and canapes...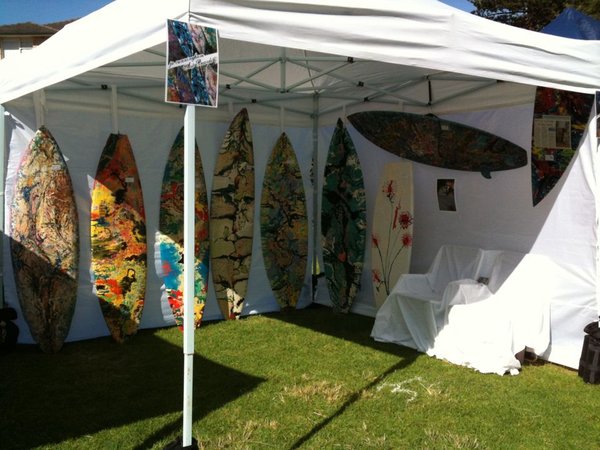 COMMISSIONS:
I had a lovely one I completed over summer. The brief was "abstract in red, white, and black". Here's the result: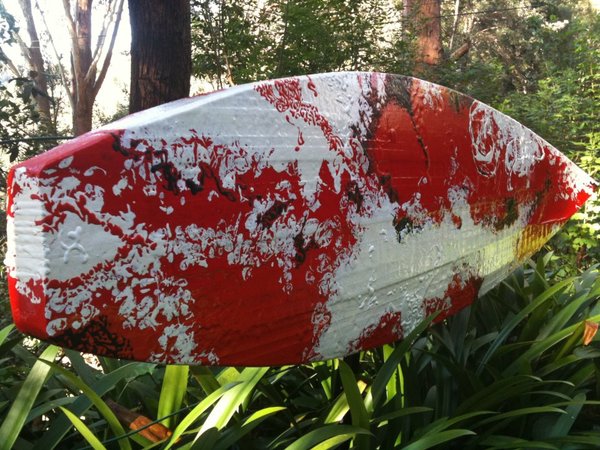 GOODBYE DRAGON
And Dragon (renamed Butterfly 2 after a small boy told me it didn't look like a dragon) was sold recently on a particularly wet market day. Here she is waiting for her new owner to take her home: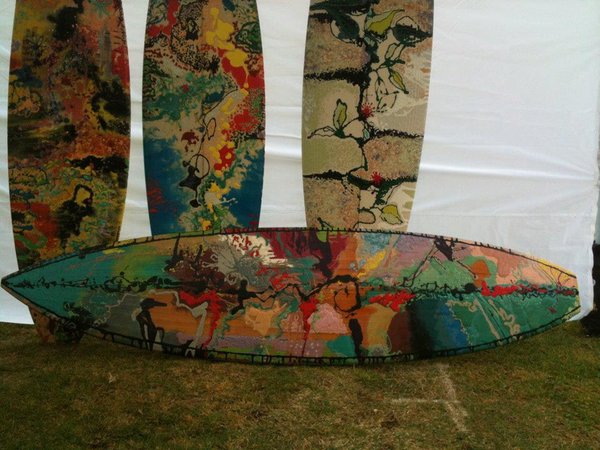 MALIBU BLANKS
And lastly, look at these! Huge thanks to Grant Miller for these wonderful old blanks. Hmm, I think I see a pod of whales! And yes, they all fit in my car!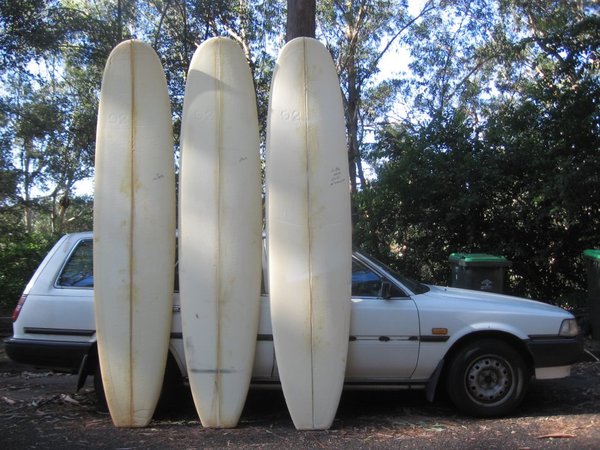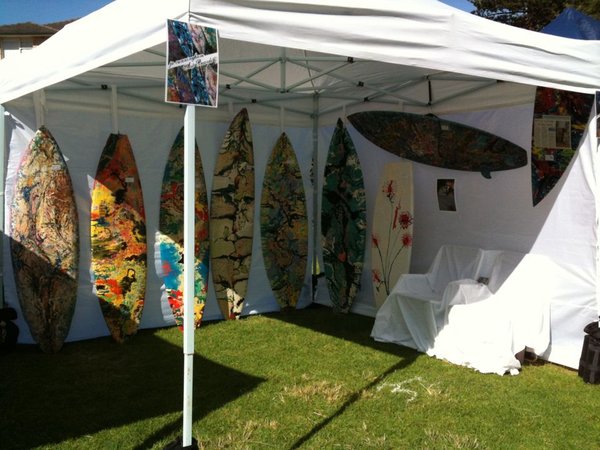 [0 Comments] [Read & Post Comments]
---